Summer is coming! I can almost smell the BBQ's, sunscreen, and chlorine. I can't wait to feel the rays of sunshine blanket my skin. I can't wait for the pair of sunglasses that double as a headband when inactive. Oh, Summer, how I love thee.
Summer for my family means vacation! We've got a couple planned and I refuse to leave the house without something to read. Even if my (will-be) 5 month old devours all my free time. I've got to be optimistic. Here are the books I plan to pack in my Summer bag.
Synopsis: Taylor Edwards' family might not be the closest-knit—everyone is a little too busy and overscheduled—but for the most part, they get along just fine. Then Taylor's dad gets devastating news, and her parents decide that the family will spend one last summer all together at their old lake house in the Pocono Mountains.
Crammed into a place much smaller and more rustic than they are used to, they begin to get to know each other again. And Taylor discovers that the people she thought she had left behind haven't actually gone anywhere. Her former best friend is still around, as is her first boyfriend…and he's much cuter at seventeen than he was at twelve.
As the summer progresses and the Edwards become more of a family, they're more aware than ever that they're battling a ticking clock. Sometimes, though, there is just enough time to get a second chance—with family, with friends, and with love.
I read SINCE YOU'VE BEEN GONE by Morgan Matson and I didn't love it. In fact, I struggled through it. But I'm giving Morgan another shot with SECOND CHANCE SUMMER. Ironic, huh? I am a fan of YA Contemporary. I like the gushy fluff, but I also enjoy the grittier side of contemporary, which is what this book appears to be.
---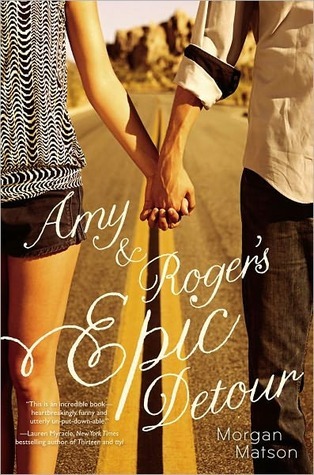 Synopsis: Amy Curry is not looking forward to her summer. Her mother decided to move across the country and now it's Amy's responsibility to get their car from California to Connecticut. The only problem is, since her father died in a car accident, she isn't ready to get behind the wheel. Enter Roger. An old family friend, he also has to make the cross-country trip – and has plenty of baggage of his own. The road home may be unfamiliar – especially with their friendship venturing into uncharted territory – but together, Amy and Roger will figure out how to map their way.
If all goes well with SECOND CHANCE SUMMER, I plan to read AMY & ROGER'S EPIC DETOUR, also by Morgan Matson. During the summer, I like to read books that take place in the summer. Plus, I'm a sucker for a book with a road-trip!
---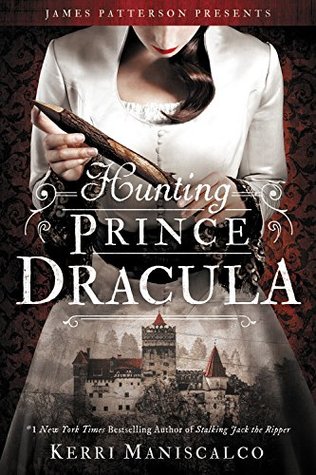 Synopsis: Following the grief and horror of her discovery of Jack the Ripper's true identity, Audrey Rose Wadsworth has no choice but to flee London and its memories. Together with the arrogant yet charming Thomas Cresswell, she journeys to the dark heart of Romania, home to one of Europe's best schools of forensic medicine…and to another notorious killer, Vlad the Impaler, whose thirst for blood became legend.
But her life's dream is soon tainted by blood-soaked discoveries in the halls of the school's forbidding castle, and Audrey Rose is compelled to investigate the strangely familiar murders. What she finds brings all her terrifying fears to life once again.
For a change in pace, I'll turn to HUNTING PRINCE DRACULA for action and morbidity. I loved STALKING JACK THE RIPPER very much and I can't wait for the story to continue! (This title doesn't release until September, but I've been fortunate and have an advance copy. Watch out for my early review!)
---
Synopsis:The sun rises, and a bear and cub begin their day together. They splash in the water, climb mountains, and watch the shimmering sky. They show their love by touching noses, playing chase, and of course, hugging. A sweet, gentle rhyme, perfect for sharing with a special little one!
The books that I tend to gravitate towards when it comes to reading to my son are often gushy, let me tell you how much I love you types. So basically all Nancy Tillman books. LOL, we LOVE her! I think I LOVE YOU TO THE MOON AND BACK fits the bill and I can't wait to read it to my little boy.
---

Synopsis: Emily Winfield Martin shows readers that letting their imaginations run free will lead them into fantastical day dreams. Whether cloud-gazing or wandering through a museum, reading a book or playing in a tide-pool, the children in this picture book find themselves in places inhabited by magical creatures such as dragons, unicorns, griffins, and jackalopes. A whimsical rhyme accompanies the dream-worthy illustrations.
This sounds like SUCH a fun book to read right before bedtime. Perhaps it will spark imagination and bring dreams of grandeur. I very much enjoyed Emily Winfield Martin's THE WONDERFUL THINGS YOU WILL BE – both story and illustrations, so I'm looking forward to seeing more.
---

Synopsis: Following a circle of family and friends through the course of a day from morning till night, this book affirms the importance of all things great and small in our world, from the tiniest shell on the beach, to warm family connections, to the widest sunset sky.
This book has been described as poetry more than having a story line. Seems a nice change of pace for us. We've only read books with story lines so far, so I'm excited to see what this book will offer for us. Flipping through on Amazon, the illustrations looks beautiful. The colors and strokes remind me of a Studio Ghibli film.
---
Are you packing any books with you this summer? Let me know what you're planning to read this summer! Thanks for reading!